Gymboree International
News
Join us for our WINTER BUBBLE PASS!
Join us for our special [BUBBLE PASS]
and participate in our original classes for a discounted price!
From 0 to 6 years of age, Gymboree Play & Music is the global leader in early child development programs that have been fostering creativity and confidence for over 40 years. We currently have over 750 sites in more than 50 countries around the world.

We will be offering our popular Winter Bubble Pass for 2 months, from 11/16(Mon) – 1/16(Sat). Families can choose from our 4 class, 8 class or 12 class monthly passes and join us for our original programs at a discounted price.

Period:11/16(Mon)~1/16(Sat)
※Not including 12/28(Mon)~1/2(Sat)
Sign up
Please check the flyer below for details. (You can enlarge the flyer by clicking on it.)
※Pricing at the Nagoya Global Gate School will differ. Click for Details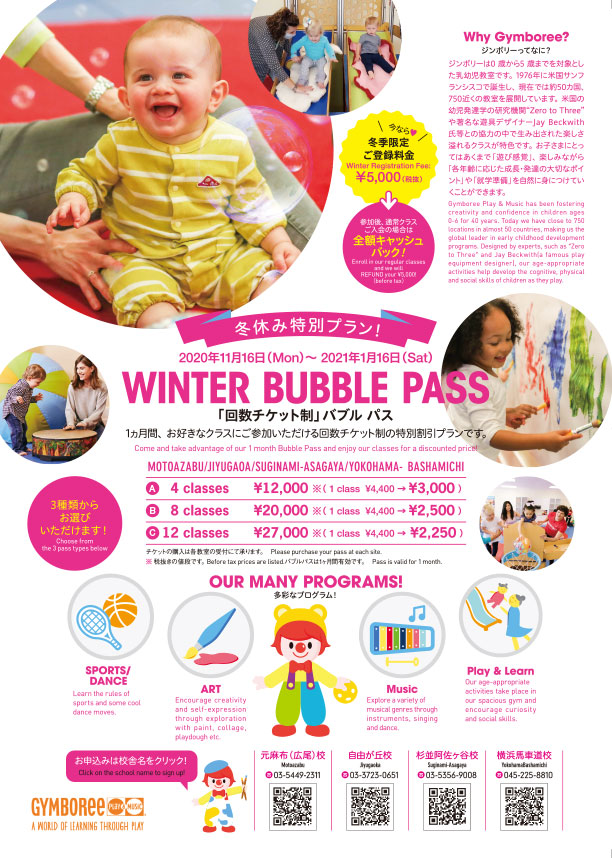 Posted on
November, 4, 2020